Kitchen Style Guide
Get Your Kitchen Style Guide! At Sutcliffe Kitchens, our goal is to help you bring your dream kitchen to life.
We know that getting started is often the hardest part, so we've created this Kitchen Style Guide to help inspire you and get you started on your kitchen renovation journey.
In the guide you will be able to:
Take a quiz to find out which kitchen style best suits your personality
Read more about the latest trends in home kitchen decor
Get inspired by our gallery of past projects
Learn how we can use technology to elevate your home's kitchen
Get our tips & tricks for maximizing space and storage
Once you've downloaded your free Kitchen Style Guide and determined your preferred style, contact our team  to get started on your new kitchen project!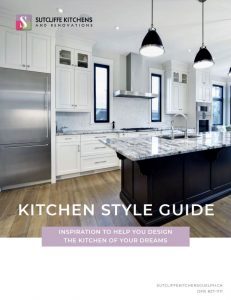 Download Your Kitchen Style Guide
Submit the form to download the PDF guide now and also get a copy sent directly to your inbox!